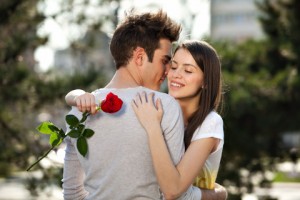 Valentines Day, named after St. Valentine, brings with it a wide variety of feelings, from exhilarated excitement, to lonely depression. No one is even quite sure who St. Valentine was, which probably makes him a fitting namesake for a holiday about something as complicated and confusing as love. Especially for teens, the topic of love can be a difficult one to grasp, and the messages they constantly see in media aren't painting a very positive picture for them. Here are some tips to help them (and you) get through Valentine's Day and those crazy discussions about love.
1) Ask open questions to your teen
Questions like, "Who's your valentine?" or "Are you planning to do something for someone special?" are good starter questions that can open up more dialogue. The key, though, is to make sure you don't have a judgement prepared if you don't like their answer. Teens will be more open if they know their words won't be used against them. That doesn't mean they should be able to break your family rules whenever they want, but try to find the balance between expressing an expected standard of behavior and creating a safe place for them to share thier thoughts and feelings.
2) Know where they're going
Some teens can seem to be as vague as a haiku poem. If they say they are going "out", find out where, with who, and for how long. They might feel like they're being subjected to "20 questions" but if you set a standard that you always want this type of information before they go out, they'll get used to giving it to you freely instead of arguing or acting impatient.
3) Go on a date
Take your teen out somewhere. Dinner. A movie. A park. Play a video game. Find something they love to do and do it with them. This can be a great way to connect and show them that you're interested in their life and that you notice and care about the things they enjoy.
4) Open up your home
Most teens love opportunities to gather. So open up your home as the meeting ground. This can empower you to know who their friends are, what the dynamics of the group are like and it gives you a chance to provide a safe, healthy atmosphere for your teen and their friends to connect and socialize.
5) Meet their friends parents
Getting to know other parents can be a huge asset when your teen is going to be spending time in other people's homes and lives. Building relationships with other parents can help you know if they share the same values as you and if you can trust them to help guide your teen to healthy behaviors.
6) Help them plan a Valentine's gift
Most teens haven't had a lot of experience at expressing affection, and they're still learning how to do it in healthy ways. Make it easier by talking about it with them and offering suggestions. See if there are ways you can help like driving them somewhere, dropping off a gift or giving them ideas that you've seen other people use.
7) Show them how it's done
If you are married or dating, you have a great opportunity to use this time to demonstrate for your teen how to show affection in a healthy way. Whether or not they show it, they're watching your examples and learning from you. So when you're planning something romantic or fun, let them know about it. Maybe even ask for their ideas or input. Doing this can give them inside information that can help them later on when they're married.
8) Talk to them about healthy boundaries
Whether or not your teen is allowed to date, it's important to discuss physical and emotional boundaries. Talk to them about some of the dangers of abuse or sex outside of marriage. Ask about some of the relationships they see in school or in the media and use those as examples to help you explain healthy and unhealthy boundaries. Explain that boundaries aren't there to restrict them from what they want to do. Boundaries, like walls or fences, are there to keep valuable things safe.
9) State your dating expectations
It might be easier to hope they've figured out what you want through osmosis, but teens need explicit clarity to help them know what you expect from them. Have a conversation with them about thier dating life. Share your family values. Let them know what you expect from them and what you hope for them. Don't just give a set of rules, but explain the "why" behind your expectations and how they can have healthier and more fulfilling relationships.
10) Be aware and be accessible
Whether or not your teen has a valentine, there are a lot of emotions and expectations that can build up inside them. It's important to notice where they're at, whether they're excited or downcast. It's also important to stay available for conversations about what they're going through or what they're thinking.
The greatest protection you can offer your teen is to simply offer a continual atmosphere of open communication. The more you listen to them, the more they will listen to you. And in times when hormones and the emotions of the season could potentially propel them into unhealthy situations, it's important to have conversations in advance that can help give them the tools to navigate. You are your teens best asset for understanding healthy relationships. Hopefully these tips can help them to see that as well.